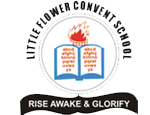 An Unordinary Leader
ABOUT US
"Little Flower Convent School", the foremost English Medium institution came into existence in 1996, when the learned group of parents realized the earnest need of an English Medium institution for their children's bright future. The institution is being run by the "Little Flower Convent Educational Society, Powayan" which is registered at Bareilly under the Society Registration Act. Till 2009 this institution was affiliated to U.P Board and during this period the institution gave 100% result in every board exam and was awarded with 'A' grade.
In April 2010 the institution was affiliated to C.B.S.E,Delhi for secondary level Education. Now from April 2012, the institution has been upgraded to Senior Secondary level.
The institution is situated at calm and quiet place away from the city noise. The greenery of school creates pleasant atmosphere. The institution is the first priority of the parents for seeking the admission of their loving children and is admired by parents because of our way of working.
We feel proud contentment because the taughts of the institution are now performing very well in other institutions and are being selected in MNC'S , Air force and other various professional fields etc.
What We Teach
OUR MISSION
Our aim is to provide quality based education for all-round development of children, we pay our due attention in inculcating moral values, self-expression, and spirituality, social values, aesthetic sense so that they can lead a quality life. We also emphasize on globalized thinking and preserving of Indian cultured and ideology. To achieve our goal we have well trained and experienced faculties.
Bright Future
OUR VISION
Our vision is to create a happy, stimulating and safe learning environment for both boy and girl,develop a love of learning and the opportunity for each individual to achieve their full potential and to develop and explore their own interests in a secure and challenging environment,enable children to become confident, resourceful, enquiring and independent learners, able to apply their skills,create an atmosphere of mutual respect, understanding and consideration for the ideas, attitudes, values and feelings of others,develop children's self esteem, resilience, personal development and well-being ,promote individual and collective responsibility.
Quick Facts
STUDENTS ENROLLMENT