Admission Open for session 2022-23 in our school.Special benefit for GIRL CHILD. New Courses also introduces in this upcoming session.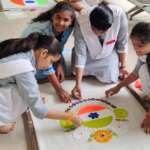 Welcome To Us
Welcome To Little Flower Convent School
Little Flower Convent School, the foremost English medium institution came into existence in 1996, when the learned group of parents realized the earnest need of an English medium institution for their children's bright future.
The institution is being run by the Little Flower Convent Educational Society Powayan which is registered at Bareilly under the Society Registration Act. Till 2009 this institution was affiliated to U.P Board and during this period the institution gave 100% result in every board exam and was awarded with 'A' grade.
A Big Family
Building Our Community
Building a strong sense of community in Little Flower Convent School is both important and doable. Our school uses different Community - Building Approaches, that helps us to be a family.
FOR BETTER FUTURE
WHAT PARENTS SAYS
The excellent teachers have inspired our daughter to set herself goals and achieve. She has loved her time at Greenville. The strong emphasis on moral and character development, has far exceeded our expectations.
We are impressed with the strong academic focus as well as the values-centred program the school offers. Little Flower Convent really cares about the student as a whole and prepares them for the next step in their lives.
Education is the best thing we ever did for our son. We have been more than pleased with the fantastic education our boys are receiving. The teachers obviously love what they do and know how to bring out the best in their students.